Dr. Bryant grew up in Nelson County where she continues to live with her husband and 2 sons. She received her B.S. degree in Biology from the University of Louisville (but she is a BIG UK fan!) She then graduated from veterinary school in 2005 from Ross University on the beautiful Island of St. Kitts, and completed her clinical year at Purdue University. After working 2 years in private practice, Dr. Bryant served her country asa US Army civilian while assigned to the Public Health Command District Fort Knox.
Dr. Bryant was the Veterinary Medical Officer assigned to the Fort Knox Branch Veterinary Services from May 2007 to May 2013. During her time at Fort Knox, Dr. Bryant was awarded the Commander's Award for Civilian Service and the Achievement Medal for Civilian Service. In May 2013, Dr. Bryant purchased Buffalo Trace Veterinary Services.
Outside the office, Dr. Bryant enjoys cycling, baseball, crossfit and UK basketball. She loves spending time with her husband and their 2 boys. You may frequently see the boys at the office, especially during the summer. Jacob keeps his family busy with baseball and karate (currently an orange belt). Dr. Bryant's husband is a full-time electronics technician on C130H aircraft in the Kentucky Air National Guard, based in Louisville, KY. They have a multitude of family pets.
Tracy was born in Cedar Rapids, Iowa but has been a Kentucky resident since 1975; therefore she considers Kentucky her home.  Tracy completed her undergraduate work at UK and then graduated from Auburn University School of Veterinary Medicine in 1992.  When she started vet school, her intention was to become an equine veterinarian.  During her last year at Auburn, she discovered that she enjoyed working with people, and their dogs and cats.  Tracy has over 24 years of experience working in many different private practices.  She continues to enjoy the daily surprises and challenging cases of small animal medicine.
When she is not working, Tracy enjoys hiking, horseback riding, reading and generally being outdoors whenever possible.  She lives on a farm with 2 horses and a plethora of other animals.
Chris joined the BTVS staff in 2012, working part time as receptionist. She is a graduate of Berea College and retired from a career as a health environmentalist and manager of food safety for the state of Kentucky.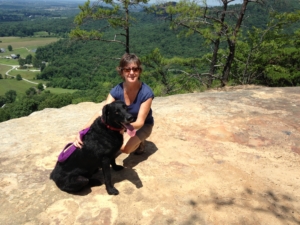 She enjoys to travel, the beach, hiking and cooking. She shares her life with a black Labrador retriever named Clifton, and her photographer husband, David.
Shirley joined the BTVS staff in 2011, working part time as receptionist and veterinary technician. She is retired from the state of Kentucky. Shirley likes to be outdoors with her 4 Labrador Retrievers and 1 Border Collie. Even though she and her husband Ed are retired, they keep busy around the house with their furry friends.
Geneva started working at BTVS in August 2011 as a veterinary technician. She grew up on a large cattle farm and was famous for always bringing some type of pet home. As an adult, that has not changed! After she graduated from high school, she took her passion for caring for animals to Franklin County Humane Society, where she worked for 9 years as an animal care taker.
She is the proud owner of 10 dogs, 8 indoor kitties, a feral cat colony and a duck. Her hobbies include hiking, gardening, building and pretty much anything outdoors. She loves working with animals and could not imagine herself doing anything else.
Joey was adopted from the Nelson County Humane Society in June 2012 as a kitten. He lived with Dr. Bryant until February 2015, when he decided to not be a teammate with the other house pets. She then decided to make him a clinic cat with CPT Jack. He absolutely adores Dr. Bryant and claims her as his own. In his spare time, he loves laying on his back in the sun. He is named after the Cincinnati Reds's 1st baseman, Joey Votto.
CPT Jack was born in early May 2014 with a birth deformity. He was left abandoned by his mom on Fort Knox, until a good Samaritan found him. He was nourished and cared for by staff at Fort Knox Veterinary Facility. When he was old enough, Dr. Bryant took him as her first clinic cat in June 2014. CPT Jack had his bad leg amputated October 2014. He is a very special cat, in his own way. He tends to be "very bossy" in the clinic. In his spare time, CPT Jack enjoys chewing cords in the office, especially the ones to Dr. Bryant's office printer. He also loves chasing furry catnip mice. Jacob Bryant named CPT Jack.
When BTVS occupied their current location in May 2014, they notice a stray black and white cat come up on the porch every night to eat. He would not allow anyone to touch him. In March 2015, this stray cat allowed the neighbor to catch him because he had a wounded leg. Dr. Bryant neutered him, vaccinated him and medicated him for his leg. After a week in the clinic, the door was opened for Stash to go back outside. Only 1 problem; he didn't want to go! So, Stash became a clinic cat too. In August 2015, Stash was diagnosed with Hypertrophic Cardiomyopathy (heart failure). He now enjoys canned cat food twice daily with 4 heart medications hidden inside.
Stash spends most of his day in the treatment area. In his spare time, Stash loves to lounge in his triple mattress heated bed. For an old man, he has it made in his forever retirement home! By the way, he is the proud owner of Geneva.